Ceramic transfers and colours
After 24 years as an employee in the ceramic supplies industry, based in Stoke-on-Trent, Eileen Hallam is now working for herself, representing several manufacturers of ceramic colours and ceramic decals (both digital and screenprinted, and also reel-to-reel decals) in Stoke-on-Trent, as well as in the Far East. If you are looking for decoration materials for ceramics, you have come to the right site. Decorating machinery is also available, and she can also help you to source kilns, refractories, etc.
White bone china
New for 2012 - Eileen Hallam now represents 4 manufacturers of UK-made white bone china, ready to decorate - thimbles, mugs, trinket dishes, etc, and an importer of white bone china mugs.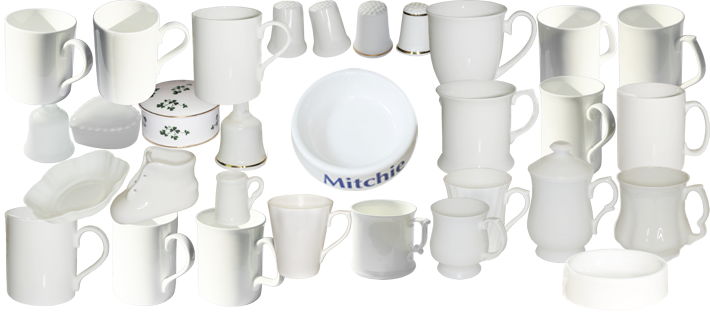 Colour for vitreous enamel
In some markets, she also offers cadmium pigment suitable as red, yellow or orange colouring oxides for colouring vitreous enamel, eg for red saucepans. Please contact her for details.

If you would like to receive catalogues, prices, samples, etc, please get in touch. Her intention is eventually to have a wider selection of products. She does not import or export in her own right – the companies which sherepresents handle the despatch, payment and invoicing, leaving her free to focus on looking after your requirements.
You can write to her in the following languages: English, French, German, Spanish or Italian. (She also speaks Russian, but cannot, unfortunately, type in Russian.)